program "Surprise Party"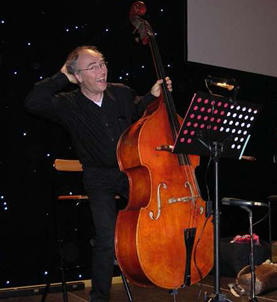 When a contrabass player joins forces with a recorder player, one can expect surprises, to say the least... When you come to realize that one of them is a well-seasoned composer, expect the unexpected... And when you learn that both musicians have a history in Jazz and Rock, don't be surprised if they bring down the house!
Dirk Van Gorp, contrabass player with the symphonic orchestra of the Monnaie (Bruissels) and composer with a history in folk and Jazz (names like Flairck, Toots Tielemans, Wannes Van de Velde,...)
Geert Van Gele, recorder soloist with a history in several Rock bands as well as Flanders' Recorder Quartet.