Ars Amatoria: Intimate Baroque from the Low Countries (soon available on CD!)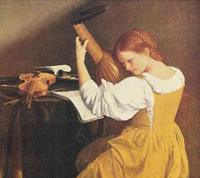 In this duo program featuring recorder and lute/baroque guitar, pearls of instrumental music from the Low Countries are showcased. This lovely repertoire is today hardly ever heard, yet its directness speaks to an audience in the manner of today's singer-songwriters, whether caressing a melody, or spinning a virtuosic tour-de-force.
During the Dutch "Golden Age" (17th century) the lute and the recorder were prized in the homes of aristocrats and the upper-middle-class. Their intimate, delicate and yet expressive sounds were ideal for the cultural "salons" of the period. The great popularity of these instruments led to the further development of Dutch recorder-building, and of the so-called "Dutch lute" with a crossed neck, as seen in many Dutch paintings. Copies of these instruments are used in this program. A piquant detail strengthens the intimate association of these two instruments: in the art of the time, the recorder and lute were embued with a sexual symbolism, the lute representing the female and the recorder representing the male. These connotations could certainly heighten the tension of any interchange between the two!
Geert Van Gele (recorders) and Jurgen De bruyn (lute and baroque guitar), perform the music of Willem De Fesch, Joseph Hector Fiocco, Jean Baptiste Loeillet de Gant, Sybrandus van Noordt, Robert de Visé
Find out more about Jurgen De bruyn and his activities with his ensemble Zefiro Torna on www.zefirotorna.be
The most beautiful melodies of Jan Jacob Van Eyck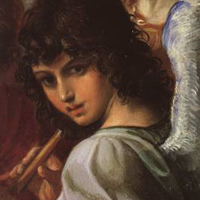 The famous 17th Century blind recorder player from Utrecht wrote down an impressive collection of popular melodies in his "Fluyten Lusthof", where virtuosic diminutions go hand in hand with the original melody. These molodies were so famous that they are also trackable in other music collections, like lute tablatures. By joining these collections together, we restored the melodies back with their original harmony and polyfony. This program is also available as a duo or trio program with soprano Ellen Delahanty.