"a singer of uncommon charm and perfect diction"
"den wunderbar klaren Sopran"
2011: Janpieter Biesemans, Retrospective. An overview of the repertoire of Flemish composer Biesemans. On this CD Ellen is in good company, side by side with Belgian top soloists as Piet Van Bockstal, Alain De Rudder, Dirk Van Gorp, and many others. Check out the site of Kattenberg.net for more details.
2015: planned for release: solo CD with Italian repertoire "Isola d' Amore"
2015: planned for release: 2nd CD of Quadrivium with their program "Flemings in Spain" together with Jan Van Elsacker, tenor.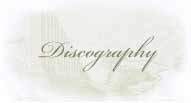 2009: Quadrivium, La Cause est Amer. Ensemble for medieval music, with medieval love poems from Japan and the Low Countries. read more

Buy CD or click image to listen.
2011: Sospiri Ardenti, baroque ensemble, with Shakespearean music from Twelfth Night and The Tempest. read more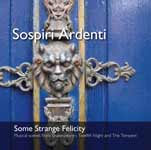 Buy CD or click image to listen