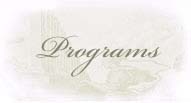 Henry Purcell (1659-1695) was one of the greatest English composers of all time. His songs are striking in their unique use of rhythm to emphasize the text, giving the music great expressive power and a subtle virtuosity.
The newly acquired richness from overseas in17th century Spain translated into a wonderful outpour of cultural splendour. Spanish composers at the court of the successive kings benefited hereof, and gave wonderful vocal repertoire in return. Works of Hidalgo, El Maestro Capitán (Mateo Romero) and Juan Arañés.
This program takes the audience to a musical island of love. We visit love there in its many facets: its sweetness, its exhaltation, its suffering, its cruelty. Works by Frescobaldi, Monteverdi, Marcello, d'India and Vivald.