Sospiri Ardenti, baroque ensemble
Sospiri Ardenti is a baroque ensemble centered around Ellen Delahanty and Geert Van Gele and features different duo, trio and quartet formations depending on the repertoire offered.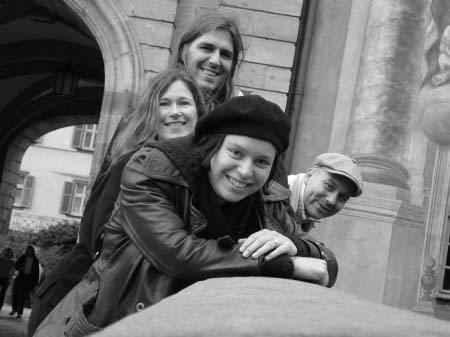 Burning and full of passion, as their name suggests, Sospiri Ardenti brings to audiences staged chamber music of the baroque era. Visit their website. They collected rave reviews from the international press with their programs 'The Nightingale", a family opera on a story by H.C. Andersen set on music by Telemann, (watch video) and a program of Shakespearean music from 'The Tempest' and 'Twelfth Night'. Listen to excerpts of the CD.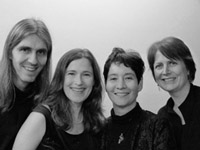 Several programs in a setting with voice, harpsichord/recorder, viol and theorbo/baroque guitar. A choice of English, Italian, French, Flemish, German and Spanish early baroque as well as high baroque programs available. Watch video or read more.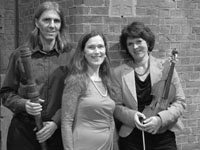 Several programs in a setting with voice, harpsichord/recorder and violin.
Quadrivium, ensemble for medieval music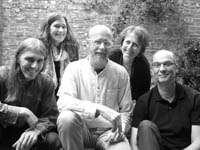 Visit their website. A suite of five medieval Japanese love poems form the core of this unique program. Set to music for Quadrivium by Belgian composer Janpieter Biesemans, the pieces examine different states of love: the joy of newly discovered love; parting at dawn; absence of the beloved; doubting faithfulness; and rueful grief. Watch videos of their different programs.
Duo with Guy Penson, harpsichord, piano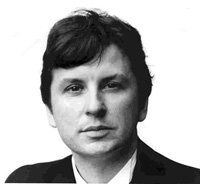 A performance by the duo Van Gele - Penson isn't limited to "the classics of the recorder / harpsichord repertoire." With fortepiano, organ, piano, flauto doppio and flageolet as part of their instrument-collection, they can perform programs concentrated around historical themes as well as mixed programs of different musical styles. Listen to extracts. Their astonishing mastery of many instruments and styles lends itself to programs of great vivacity and variety. Read more about their programs...
Duo with Bill Taylor, harps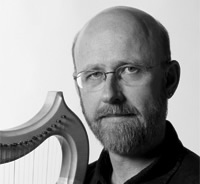 Geert Van Gele and Bill Taylor formed their duo in 1997, having met at the Amherst Early Music Festival in the USA. They have performed programs of late medieval and renaissance music for harp and recorder in Europe, the UK and the USA. Listen to extracts of their duo-CD. They collaborate as well in the quartet, Quadrivium, an ensemble for medieval music, as well as in a trio together with singer Ellen Delahanty. They recently released their debut recording as a duo on Kattenberg Recordings. Read more.
Duo with Jurgen De bruyn, lute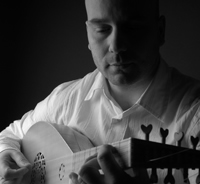 In their programs featuring recorder and lute/baroque guitar, pearls of instrumental music from the Low Countries are showcased. Watch video. This lovely repertoire is today hardly ever heard, yet its directness speaks to an audience in the manner of today's singer-songwriters, whether caressing a melody, or spinning a virtuosic tour-de-force. Read more.
Duo with Ellen Delahanty, soprano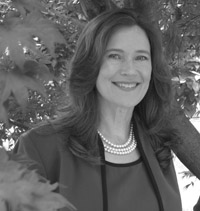 Visit her website.The surprisingly dramatic interpretations of Ellen Delahanty, interspursed with theatrical elements, have convinced many audiences. Emotions run high during her performances. Featuring recorder/harpsichord and voice, their programs range from early 17th-century English and Italian repertoire (watch video) to a unique Broadway program (watch video). Ellen performs straight from the heart, revelling in the emotional intensity and expressivity of the music.
Duo with Ludmilla Tchakalova, harpsichord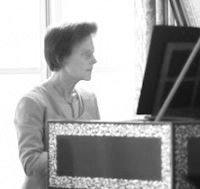 At this time, two programs are being presented. One with an arrangement of J.S. Bach's beloved Goldberg Variations (recorded on CD -- watch video), and one with French music from the time of Louis XIV (watch video). Both programs feature different types of recorders together with harpsichord.
Solo recorder programs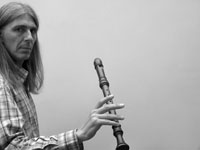 Different solo programs, featuring recorder solo. Some of these programs are recorded on CD. Read more. Watch video